Welcome to Care Carpet clean

Care Carpet Clean is a small cleaning service offering:

Carpet & Upholstery cleaning
Communal cleaning
Vinyl & Altro cleaning, (hard surface floors)
Clientele
Houses
Commercial properties (offices, factories etc)
Pubs & clubs
Schools/Kindergartens
Residential care homes
Estate agents/ landlords (end of tenancy)
Shops & salons
Etc
Certified by NCCA
Certified by the National Carpet Cleaning
Association, customers have the reassurance
that work and the right ethics along with risk
assessments & H&S are carried out accordingly
to NCCA.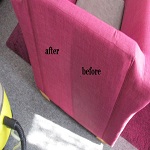 Experienced of 10 years in not just carpet cleaning
but general cleaning also. (BICS)
As a small company every steps are taken to maintain
a friendly competitive service to residential & commercial
clientele.


Assurance
Our assurance to all customers is that we will guarantee
reliability and keeping a good service and to go that extra mile.


Public Liability insurance
Gleaming insurance is sponsered by Hiscock insurers
and covered for up to 2 million pounds and can be upped to specifications for contract based work.
This is specialized for treatment and risk to carpets etc.